The first sentence in this case which has made me jump was this one of his father saying that he disowned his son:
http://www.telegraph.co.uk/news/worldnews/europe/norway/8660398/Father-of-Norway-mass-murderer-Breivik-my-son-should-have-killed-himself.html
before committing his crimes, Anders Behring Breivik was convinced that his family would hate him. In reading his book, I thought it was very strange that he had got this idea, and this was worse when I have heard his father, and that I observed that his son was right. Could we lose the love of our parents because of what we have done? To show us that he was not crazy, as the common will say it a little bit easily, He had foreseen all of our thoughts, thoroughly in his book (2083 a european declaration of independence) he described how a system would react to the serial of killings that he was going to commit. He did not want to be labeled too quickly. This highlights how much it is difficult to counter ideologically the thought of Anders Behring Breivik, because he anticipates on this subject, like on the others. He foresee each of our thoughts.
He knocks out us with his knowledge of the Islam ( first hundreds of pages) to show us that he is speaking of a subject he mastered. Anders Behring Breivik is not a loser, but he agreed to pose as a loser. Anders Behring Breivik was a Freemason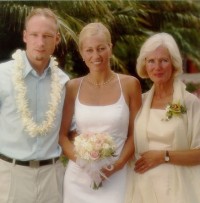 of high degree for his age and his masters had recognized him as someone of very clever they wanted to bring him up. An
ders Behring Breivik was beautiful, became millionaire before 25 year old(p1380) by its own means, surrounded of friends (p1381), and capable of humility. This picture does not suffer from any imperfection according to our modern standards. And so Anders Behring Breivik had wished it : he didn't want to suffer of crazy caricatures even though he knew this was unavoidable.
On the ideological question, I must admit that I have discovered a whole world that I had approached, but which was unknown to me until then, or at least not so explicitly.
Considering that the cultural Marxism is gaining in Europe, tyrannizing any divergent thinking by the « political correctness » of our newspapers and the dismissal of all those who oppose this ideology (p1382), considering that the hatred of the european indigenous cultures was itself deeply inlaid because of the cultural Marxism, considering that this cultural Marxism left Europe to be invaded by a deadly ideology that made thousands of time more deaths than Christianity (Islam) (p44), considering all the lies, all hypocrisies, the inconsistencies of this cultural Marxism, of our newspapers, of our elites, considering the sluggishness of western men, and their weak propensity to defend themselves, considering that feminists have tried to emasculate him at school because of their female education (p854), Anders Behring Breivik has decided to accomplish an action of ultimate freedom by killing those « traitors », in an operation which he considered both exemplary and self-defensive.
Who would not want to be a righter of wrongs, to be right above of all the others, to be a « modern Knight Templar » courageous and steadfast?
Anders Behring Breivik poses strong arguments, and ideologically, the cultural Marxism has no means to respond him (what he also stressed in his book, anticipating the silence of the media prefering to tell that he was a fool rather than counter him with arguments :
http://www.metro.co.uk/news/870956-anders-behring-breivik-is-bad-not-mad-says-top-medical-expert).
What reasoning follows Anders Behring Breivik and how could we counter him if it's possible?
Anders Behring Breivik believes that the future will take place as follows: in the first stage, the main will be the awareness of the cause, because, in a second stage when the cultural Marxism will have completely failed, Islamic immigration in Europe, and social unrest will be so great that the Europeans will have to take up the arms, and in a third stage, will have to fight and then deport the Muslims. His thinking takes place in a civilizations's clash assumed and inevitable. So he decided to eliminate the European traitors that are responsible for this clash of civilizations: the politicians, the marxist traitors, journalists (for example). His logical demonstration is baffling, it is almost irrefutable so much he provides arguments and statistics. What's more, he affords the luxury of the optimism. Far from yielding to « >