Anders Behring Breivik : Norway feminist's society has gone too far.

Publié le 30 septembre 2011 par Léonidas Durandal à 0 h 00 min
any defeatism, he is convinced that the Europeans in 30 years will begin to react and that in 80 years they will have won this battle (P705). He believes in the European victory against the Islam that he regards as inherently barbaric. For him, the survival of our culture justifies any act of war including his own. Throughout his book, in all its philosophical approach, I saw him pushing aside only one single idea: that a victory of Islam might be preferable to a victory of this cultural Marxism and to its extension to the entire world. Here is one idea he ignores.
This may seem anecdotal, but in a spirit as this one of Anders Behring Breivik, there is nothing really anecdotal. For me the only possible or likely explanation is that a struggle against the entire cultural Marxism, not against Islam, would remove him the glory of being recognized in the eyes of his kinfolk (who are very often cultural marxists). Anders Behring Breivik does not seek only the truth, but also the love of his own family. He wants to be the savior of his country. And despite what he may think, there is a psychological reason to that, and it is the lack of love from his father and from the rest of his family (p1358). I do not dispute the fact that he wanted to accomplish a free act, and that there is successful. I do not even challenge his logic but I question his motivation and his ideological path. His whole career proves it: to be recognized in the hip-hop, and after in his Masonic lodge, and now to become a martyr at Europe's eyes.
Until the end he will declare acting on behalf of those that he loves (p1463). The desire of recognition is one of the worst prisons of the heart. He has this family flaw in him, but this is not the only one. He is not so stupid to not integrate his personal situation in the whole society. The painting of the Norwegian social environment which he makes us the description is terrible : families completely deconstructed, reconstituted families where he comes, the families of the deception and of the sex, of a Protestant society much more liberated than ours, sexually diseases that caused the degeneracy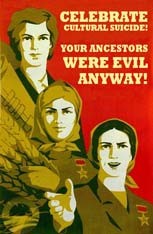 of the intellectual capacities of his mother to 10 years old (p1172) and the lack of fertility of his sister (P1386). He also describes the cynicism of people interested only in their work (p1117). He forgives all his entourage, without concession, but he has decided to react.
He wants to believe that they are not doomed to slavery. He wants to save their soul. But thus, he goes beyond its prerogatives of being human. As a result, I do not see why he wants to save that bunch of idiots rather than encouraging a structured Islam. At the end, we can not save people from themselves, even if, in fact, these people need to be saved. Individual salvation is private although the community allow the individual development or not.
The marxist cultural and the conservative right have taken him for a fool, and as he had predicted it, they torture him ,in keeping him in isolation (http://www.newser.com/story/128919/norway-killer-anders-behring-breivik-calls-isolation-torture-at-hearing-today.html
read comments very enlightening on the subject), they judge him without any morality, and in their weakness, they are keeping silence as for his ideas. They insist in their hypocrisy and in their lies. A survivor of the massacre said that Anders Behring Breivik had failed to convince.
I'm not sure he understood the stakes of the war that Anders Behring Breivik is leading. As for his family actually, they hate him.
All, by the path they follow, give him reason.
From the depth of the web galaxy, in the border, I sound a note may be a little bit hopeless …
If the cultural marxists really want to counter Anders BehringBreivik, they will have to love him, they will have to answer to him with love. Before requiring his self-criticism, they will have to make their own self-criticism. Anders Behring Breivik think that they are unable to do it, this is the reason why he decided to lead by example by eliminating them. History invariably will show who was right. Here there will be a fight between Anders Behring Breivik with his mechanical, and cultural Marxism in its totalitarian position. But « >