To my right : Casey Anthony, a young mother of 22 years old at the relevant time :
_ This one indicates the disappearance of her child 31 days after the event, meanwhile she said he was into the house of a baby sitter which never existed.
_ Just after the disappearance, she has tattooed herself "Bella Vita" on her skin.
_ During the disappearance of her child, she has made bacchanalian revels.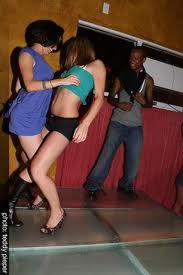 _ The day of the disappearance, she writes on her personnal diary that she had not felt as happy for a long time.
_ The police has found chloroform in her car (on an necrophagous insect !).
_ The body of her dead child was found close to her parents' home, six months later, buried for a long time.
To my left Natifassou Dialo, accusing Dominique Strauss Kahn of rape :
_ Frequenting the mid of the drug.
_ Just married to a dealer still in prison.
_ His account was used as a transit point for large sums of money.
_ She lied to her home community to whom she has hidden her double life.
_ She lied to immigration authorities to enter in the U.S. (speaking of gang rape).
_ She lied to the social services to get an apartment and money while she exceeded the social minimums.
_ She could have delivering herself from time to time in prostitution.
_ She entered a hotel room where the customer was still present, she had no right to do it alone, comes out a while later to go into another room to clean it, and came back after  into the first room to clean it a second time.
_ Then she accused the customer of the room that she has cleaned of rape. She said to the investigators that she hid, terrified, in a closet until the release of the client while, in reality, she cleaned another room.
_ This model of practicing Muslim, without history, according to his brother (who was not his brother), has called another dealer of drug within 24 hours after facts, to declare to him "This guy has a lot of money. I know what I do" about the guy she accused of rape.
So my question at to 2 neurons is : who's the one who will be believed ?
The child-murderess ? The untruthful maid or the guy charged with rape ?
Wrong answer in both cases!
The child-murderess has just been released.
Multiple charges are held against Dominique Strauss Kahn and he is banned to him from returning to France!He has lost his job and will never have the opportunity to become president in France.
There is a worm in the fruit in this great country of freedom. And this worm looks like the feminism. Tockeville would have never imagined such a case in the U.S.. Tockeville who said that this country held out because of the character of its women, could he imagine, he was so insightful, that it would be some of these same women who would undermine this great country. Certainly not, he could not foresee everything. He could not have heard about something of so wrong than the feminism at his time. It's new and this is the new tyrany of our occidental countries.
Then my last word will be :
Free Dominique Strauss Kahn immediately!