Some actors are embodied in their role. The character accompanies them throughout their lives, and accompanies us as well. The hero grows and we with him, we learn to become men. Rocky helps us grow, with the limitations of the man who wrote the script and even directed some episodes of the series.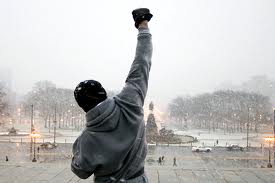 The stories, or the beliefs, have always taught us to overcome our emotional deprivation. Rocky has nothing to do with a brute that would crush everything in its path. Quite the contrary. It is the fragile kid who learns to overcome himself, who knows circumvent the pitfalls that that life can put on his way, who is ready to face the difficulties, ready to overwhelm him all the time. Money is anecdotal, show business dupes the soul and must remain a game, the hero is surrounded by sharks in an artificial world in which he is a foreigner, he who is only truth. He is not brilliant, he did not study, and he knows he is not part of the middle-class. He has only his good will and his humility for winning.
The financial difficulties are an excuse to learn how to excel and go back to basics: the couple, the love, the relationships. The important thing is to take the good side of the life and staying positive. We have to stop to talk. We have to begin to act. Neither slandering people, nor hating his enemy, and pray the only one who surpasses us and loves us (here in the Catholic faith). Despised, he earns the respect every time. Suffering, he transcends his injuries. Winning, it's to rise oneself up after every fall. He attacks his opponents first at the body , not to the head, his great strength, physical commitment, body against body, because he does not feel capable of intelligence, just of a great strength of heart.
In each episode its ordeals and its moral
Rocky 1 :
Rocky is a failure. He is supported by nobody. It's hard for him to contain his own violence always ready to overwhelm him, he lives alone, isolated and despised in the stench and filth. He is a second-class boxer who plays
small, and who wins his matches because of his talent but without making special efforts. He looks with pity the child he was, with a touch of nostalgia perhaps. This child is still present in him, and he seems to say : « what have you become? Where did you go? ». This thug scares broken men to cover the money that the boss has lent them. He works well, but he does not like what he does. Like a big brother failed, he gives lessons to younger people in the street who despise him because of it. His father never supported him. Someone will have to tell him that he wasted his life (Mickey, the coach) and that he has a last chance of success (an unexpected match against world champion) for he picks himself up by one's bootsstraps. He will have to accept to beg help now that his chance is there. Getting help, revolt him. At first he think that the obstacle is too high. Finally he gives.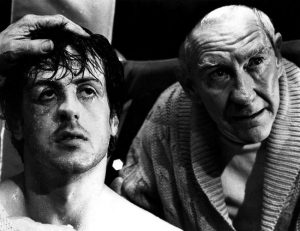 He begin his training alone in the dark. He does not want to finish « like the others ». He eventually reach his goal, thanks to Adrian, through her, one might almost say.
Rocky 2 :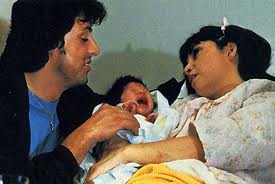 Rocky against Apollo Creed. In this episode, he fights not only for the love of his wife, or to get by, but also for his family, for the unborn child, and also for the child that he is no longer, for all children for whom he is become an example. Ultimately, he seeks to become responsible. He will win.
Rocky 3 :
Rocky, suburban kid without familial references, born from nowhere, loses his substitute father, Mickey. He will have to learn to live and to win without him.
The friendship will come to his rescue. His wife will shed light on the need to admit his fears and his anxieties to overcome them.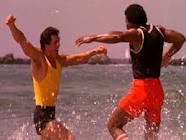 He will face the effrontery, the indiscriminate violence that sleeps definitely in his heart. « >