Rocky Balboa : Why do men fight ?

Publié le 16 novembre 2011 par Léonidas Durandal à 0 h 00 min
Mr T materializes his anguishes. He will win this game.

Rocky 4 :Rocky against the communism (Drago).
In life, we must be able to put everything at stake, even if we reached the top. But there is also a danger of death
in the desire to live only through his job. Between these two extremes, a man forges himself an uncertain life. Apollo Creed died for having ignored this rule.
Finally, the mature man enters in the political side of life. He fights against an iniquitous system, which uses trickery to perfection. But far from condemning the people who fully follow this system (communism), he holds out one's hand. I wonder how this kind of film is able to convert an entire people and is more effective than the best propaganda: neither contempt nor blindness.
Rocky 5: The master against the student.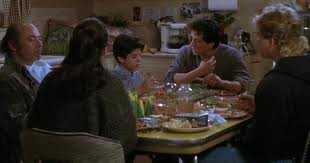 This episode is a satirical tract against the media environment. Although the media always want more, you have to continue on your own way. Again, the nostalgia of departure is present, this time when we are naked but that the « Kwai » is in us. A star should never go astray, nor forget from where he comes out. The film also confronts two interesting notions: the transmission and fatherhood. The conclusion, non Roman, is not to forget his filial obligations. Rocky doesn't picture himself as a model father. He does not have authority over his son except by the love he gives. Here, he advocates the idea that family and blood ties are more important than our jobs. "Being heartfull" means "true being". Real statues are erected to the glory of our moral qualities not by wealth accumulation.
Rocky 6: Rocky against the new generation.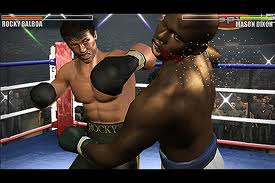 We can not live in the shadow of our father. But we can't also live of self-complacency. Always between two extremes, Rocky shows himself as an example for his son, and as a lessons giver against his young opponent.
The difficulties can learn us to respect us in all circumstances. Rocky has aged, he is now able to become a real father and to confront himself to the image that his children send back him. He understood that love was not enough. They want answers from him.
Adrian and the women: an idyllic image that does not hold in the life.
As Rocky is able to give us lessons in terms of personal life, by contrast in terms of feelings, he cultivates the image of Epinal. Adrian will change from a subjected and shy young woman in the first episode, to a figure more and more assertive. In the meantime, Sylvester Stallone has known a few women, and has learnt to go beyond appearances, enough to have the obligation to kill the character of Adrian in the last episode, his life itself being not at all in accord with its scenarios, and the perfect image of Adrian sterilizing the story. « We fulfil our empty » is the key sentence of the first episode, Rocky's definition of love. Maybe there is a little bit of that in life (love like meeting of two neuroses as psychologists say it), Rocky is the muscle, and she is the brain as he tells her in laughing. In the series, the love is more important than the friendship, sign of a degenerated time. Adrian is skeptical at first in front of his decisions of fight. In the begining she doesn't offer him a full support. Eventually she will agree with him. She seeks only peace of a quiet life, real or feigned sentiment disguised behind his love for Rocky. In the episode 4, Rocky will even fight without the consent of his wife and assumes his role of « man ». The pressure present in previous episodes will grow up between them. In contrast, Drago, his opponent lets his wife, very masculine, talking to his place. These last represent a degenerated system for which Rocky and Adrian are the counterpoint. Already in the 3, Adrian seemed much stronger mentally. She became his guide who comes out him of intractable anxieties and that had no meaning for him. Finally, in the 5, Rocky has lost many illusions. His wife is surer than him, much enlighted. It has taken him a lifetime to understand who drived, in reality, the family boat. So much, that she will strongly warn him « >